A Continual Celebration of Life, Joy, Peace and Triumph in the Holy Ghost
On Sunday, March 15, 1987, the Holy Spirit inspired a Triumphant Movement. On that day, a body of born-again baptized believers in Jesus Christ came together at the Holiday Inn on Snapfinger Woods Drive in Decatur, Georgia to Worship God in peace, and to organize themselves as a Church of Jesus Christ.
Under the leadership of the organizing Pastor, Kenneth L. Samuel, this body of believers realized that despite inimical circumstances, they were nonetheless "More than Conquerors" through faith in Christ Jesus. For this reason, the Victory Church is engaged in a continual Celebration of Life, Joy, Peace and Triumph in the Holy Ghost.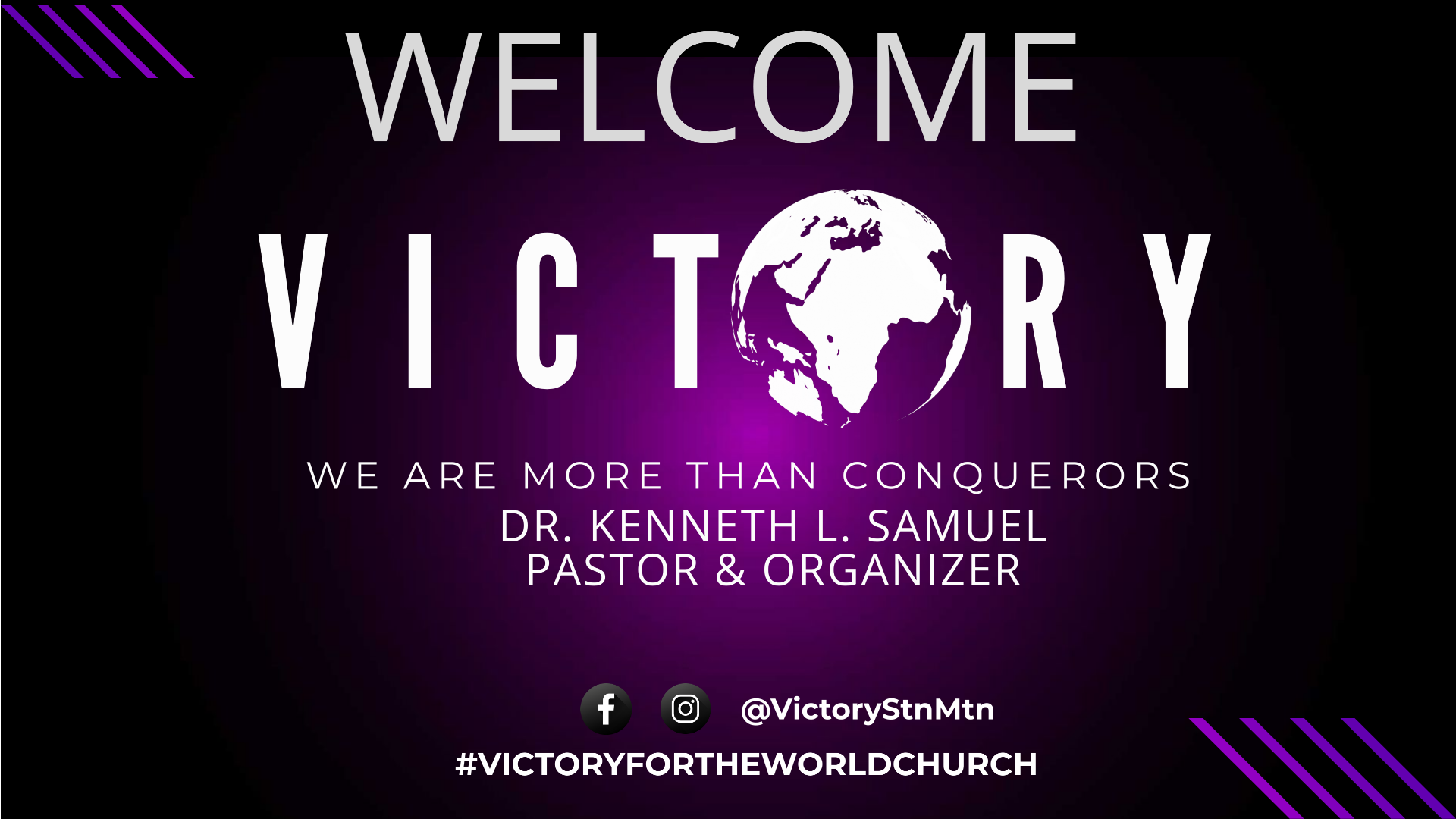 From March 22 to September 27 of 1987, the Victory Church Worshipped in the cafeteria of the Chapel Hill Elementary School in Decatur, GA. There was no air-conditioning in the school for the summer, and sometimes the building staff would forget to give us access for various events, but every Sunday we met in that hot cafeteria, our praises to God were higher than the temperature in the building. We were truly grateful just to be granted a place to celebrate God's goodness together. Every Sunday morning, we allowed the spirit of Christ in us to transform a hot cafeteria into a wonderful Worship Center.
On October 1, 1987, the Victory Church family was blessed to move to a seven-acre site, located at 4925 Browns Mill Road in Lithonia, GA. For seven years God nurtured us, matured us and equipped us to be a Light House of Love, Celebration and Service in that community. The Church building was small, but our vision of ministry continued to expand. In the summer of 1993, the Holy Spirit led Dr. Samuel and the Church officers to begin negotiations on a larger Church facility, located at 1170 N. Hairston Road in Stone Mountain, GA.
On Sunday, December 18, 1994, the Victory Church moved to Stone Mountain, GA. At the Stone Mountain location, Victory built and expanded it's ministries to include The Victory Christian Academy, Youth Mentoring Programs, Customer Service Business Training, Victory Summer Camp, a Food & Clothing Bank, free HIV Testing & Support and a broad range of services designed to equip and empower our congregation and community.
From the Holiday Inn off Wesley Chapel Rd... to the Chapel Hill Elementary School cafeteria in Decatur... to the little Church on Browns Mill Rd. in Lithonia... to the Sanctuary... then the Worship Center in Stone Mountain... and now moving into the next chapter of our Service and Celebration in Christ...
... Victory for the World Church remains steadfast in our vision 'to serve this present age'. Our love for Jesus is demonstrated in our commitment to Justice.
To God be the Glory, as the Story of our Witness, Worship and Work is unfolded in new venues and vistas.
In the Name of Jesus... The Victory Celebration continues...
Join our Church. No matter who you are or where you are on life's journey, you are welcome at Victory for the World Church. Come grow with us in the grace and knowledge of God in Christ Jesus.